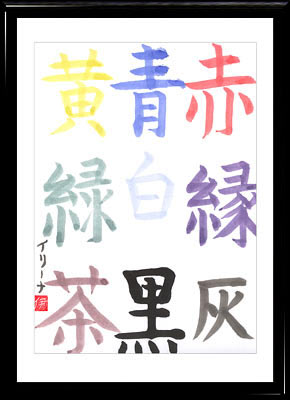 Red, violet, grey,
blue, white, black,
yellow, green, brown
Unique and wonderful gift
Beautiful gift
Prime gift
#05008
Shodo
Japanese calligraphy
Kanji
Original (This is not a print).
The art work is made following the traditional method for japanese brush painting.
Japanese sumi ink on rice paper.
With sticked durable paper backside.
Paper size: 24 cm x 33 cm.
Original (unframed) - 71,12 €
Framed art work, matted, black wood frame, ready to place.
Passe-partout: cardboard. Color: white.
Framework: wood. Color: black.
Frame size: 29 cm x 40 cm.
Original (framed) - 91,44 €
Accept:









Shipment worldwide.